Connect with My Students
---
Your connection with students will have a great impact on your students' experience in your remote course, and on their overall educational experience during remote instruction. Introducing yourself early in the course, and providing avenues for students to introduce themselves to one another, can establish important connections on a human level that will encourage and sustain student engagement throughout your course. 
You can continue to build on these connections and maintain open lines of communication with students by inviting students to attend your remote office hours, engaging with class discussion boards, and sending timely announcements to keep students on track and updated about the course.
For more details on how to connect with students, please explore the strategies below:
---
INTRODUCE YOURSELF
Upload a recent profile photo to your Canvas Course. Your profile photo, or a photo of you at the start of the course alongside a brief bio will allow students to get to know who you are even though they can't see you in person. Introducing yourself personalizes the course so that students feel invited to participate and engage in a real course with a real human being.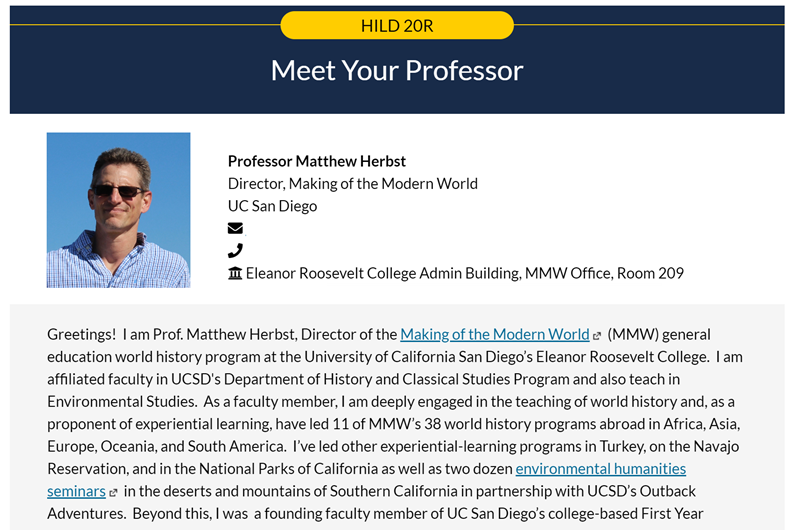 ---
ASK STUDENTS TO INTRODUCE THEMSELVES
Plan an icebreaker activity or utilize Zoom breakout rooms to have students greet one another for the first synchronous meeting. 
You can also utilize Canvas Discussion boards to give your students the opportunity to introduce themselves to their classmates asynchronously. A discussion board called "Introduce Yourself: will allow the entire class to read the responses and reply to one another. Prompt students to describe something about themselves, their major, why they are taking the course, etc.
When you give your class the opportunity to communicate with one another via a discussion forum or via breakout rooms, even one as simple as "introduce yourself," it can help foster a sense of community and build human connection.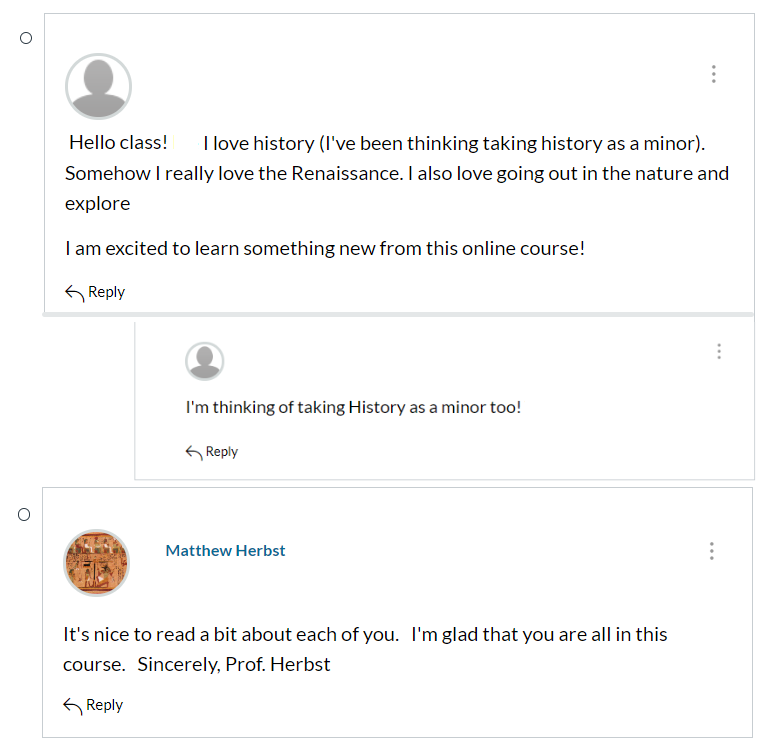 In remote and online instruction, "teaching presence" refers to the way that instructors can convey their virtual presence in the online classroom. Providing guidance and instruction on how students should be participating, engaging with the material, interacting with their peers, and progressing toward the learning goals all create a sense of teaching presence in an online classroom. Teaching presence does not always have to be synchronous; we share some ideas below for conveying presence via recorded video, email communication, and sending regular course announcements.   
---
STAY ACTIVE ON DISCUSSION BOARDS
The advantage of class discussion boards is that they are open for all students to view. If you and your students set your notifications, you can easily follow the threads. As you and your students respond to one another, the entire class will be able to go back and follow the "conversation."
Your "presence" in the Discussion Boards will go a long way in creating a sense of active classroom engagement. You can respond to general questions to help clarify points in the course, and even provide general feedback for student responses. Even a quick acknowledgement of the student's post creates a sense of presence.
You'll want to also make your TAs aware of this new form of communication so that they can help you monitor the discussions, set some guidelines for participation, and respond to student posts.
SEND TIMELY ANNOUNCEMENTS
As you follow the discussions, respond to student emails, grade student work, and engage with students in virtual office hours, take note of common themes or questions that arise, and share information that might benefit the entire class as they prepare for the upcoming week.
At the beginning of each week, post an announcement to recap progress in the last week, and prepare students for the week to come. Address common patterns, questions, or themes that arose and give them goals to work towards in the coming week.
---
CONSIDER PROVIDING VIDEO OR AUDIO FEEDBACK TO STUDENTS
In the remote classroom, students still want to connect with their instructors as teachers and on a human level, and it can be difficult to re-create those occasions for connection as easily when we are all behind computer screens. One additional way you might consider projecting your "instructor presence" into the course is by leaving audio or video feedback on student work. You do not need to leave the Canvas system to do this; both instructors and students in Canvas can upload audio and video files alongside text comments on a student submission. The image below highlights the icon within Canvas's Speedgrader tool that will allow you to do this: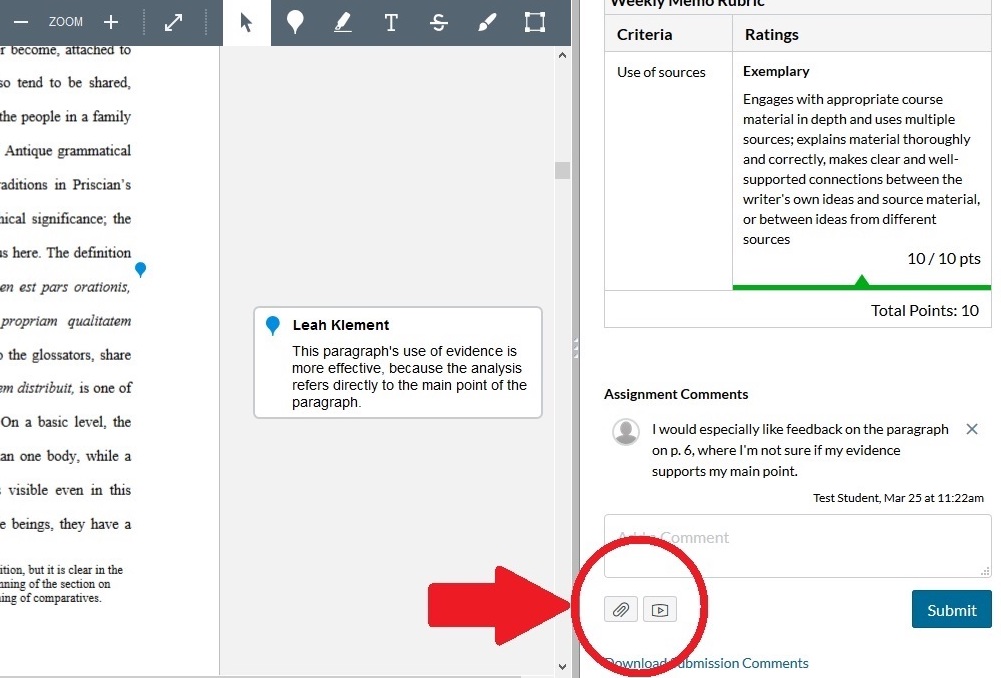 Further Reading:
Collecting early student feedback early is a great way to assess how students are experiencing your remote course. Weeks three, four, or five of the quarter are a good time to collect early feedback from students on how their learning is progressing. Early feedback from students at this point in the quarter helps to identify what is working well in your course(s), as well as challenges or concerns students have. Often, at this point in the quarter, students reveal challenges they may not otherwise have shared that can be acted upon fairly easily. There are a few ways you can collect student feedback:
1. Get one-on-one support from an Education Specialist.
Request support from an Education Specialist in the Teaching + Learning Commons Engaged Teaching Hub who can provide consultation on survey questions, collect and summarize student feedback, and provide guidance on responding effectively to the feedback. We can host an anonymous survey for you and provide summary results to you; or we can help you to adapt a survey of your own. (Click to request a consultation (Google Form)).
2
. 
Create your own tool to ask students what's working well for them in the course, and what they might be finding challenging.
Create a Google survey or an anonymous Canvas survey with open-ended questions, embed the link in an announcement in Canvas, and encourage students to fill it out. If you have time during lecture or another synchronous meeting to have students fill the survey out, this can be a good strategy for raising response rates. We recommend questions that focus on student agency in monitoring their learning environment. We have found these questions to be effective (Google Form). (Please email Engaged Teaching Hub if you would like support with adapting a survey in Canvas or Google forms: engagedteaching@ucsd.edu).
3. Encourage students to reflect on their own challenges and to seek support.
Whether you choose to work with an Education Specialist or design your own feedback tool, this point in the quarter is also a good time for students to check in with their own learning and consider what changes they might wish to make going forward. We encourage you to include a question in your survey that asks students to reflect on what they could do to enhance their learning in your course, and to address these ideas in your response to the student feedback you collect.
For more information on interpreting and responding to student feedback, see
Collecting and Responding to Early Student Feedback
.
Facilitate a regular meeting time for students to connect via Zoom and watch your pre-recorded videos together! This provides an opportunity for students to meet other students, as they work through the instructional media you have made available in the course.
---
CONSIDERATIONS 
Assign a TA or a student volunteer to coordinate the Zoom sessions. They will need to schedule the regular time(s) and allow one attendee to share their screen while watching the videos. 

Be sure the host is aware of

Zoom meeting safeguards.

Provide discussion questions that can guide reflection after the students have completed the videos.

Be available to answer questions, but don't necessarily lead the sessions – this works best when students are watching together.

Ensure equitable access to the sessions, by publicizing the days/times and encouraging scheduling at different days/times.
Zoom works well for holding remote office hours: instructors can answer questions in real time, demonstrate problem-solving strategies, and meet individually or in groups with students to work through difficult topics or continue in-class conversations. Just like face-to-face office hours, it can be helpful to talk with students about the importance of office hours, and give them a sense of what to expect. If you welcome students to come to office hours and simply chat about your research or their own aspirations, emphasize this to students and remind them regularly during lectures and class meetings that you look forward to seeing them at office hours. 
---
Hosting office hours on Zoom:
To meet students individually:

Turn on the waiting room feature to allow for a one-on-one OH setting. This can allow you, as the host, to admit students one at a time or a group of students who are working together.

To have students work together or rotate between individual students:

If you want to be able to have students work together or if you want to rotate between students, you can move students from the main room into breakout rooms. See

Getting Started with Breakout Rooms

. This will allow students to be split into small groups to discuss topics or to work on similar problems. Alternatively, you could put students into individual breakout rooms for them to be able to work while you rotate through the breakout rooms. 
Considerations to make your OH accessible to the most number of students:
Poll students to find a time that most can attend, or vary the time of your office hours from week to week to accommodate different student schedules

Use

Canvas Scheduler

or

Google Calendar

to have students sign up for an appointment slot and avoid long waits

Consider setting up a discussion forum to act as an asynchronous space for students to ask and answer questions. 
For more strategies regarding remote office hours, see the full Engaging Students Through Remote Office Hours resource.